Every day, we get to roast & prepare great coffee for great people all over northern Michigan. It's about the smiles, connections, and relationships we forge over this shared cup that is the magic behind what we do. Our passion for coffee and for people - their stories and journeys - meet in the middle at each counter of North Perk and Lake Charlevoix Coffee Company.
Our Story
In 2013, amidst a frenzy of scribbled out drawings on napkins, a loose business plan work-in-progress in a google doc, and lots of lists of names/color schemes/logo sketches, North Perk Coffee was born. Like so many ventures, it took a leap of faith (would it work?) and confidence (as a former English teacher did I know enough about running a business?) but stepping out onto the ledge has been so, so worth it. Through North Perk, my husband and I have been able to carve out a life in the best place on earth, that encompasses hard work, passion, people, travel and early mornings. Our goal from day one has been to serve and prepare excellent coffee in a warm, inviting environment - one you want to savor and share with others. When we often find ourselves in one of our shops on a day off, we know we are doing something right.
In spare time we love spending time in the woods, on the water, under the sun, out in the snow ... adventures all fueled by coffee of course! Little Miss Nina Marie joined us in May of 2017 and life is taking another leap - maybe even the best one yet! When you're near one of the shops, come say hi!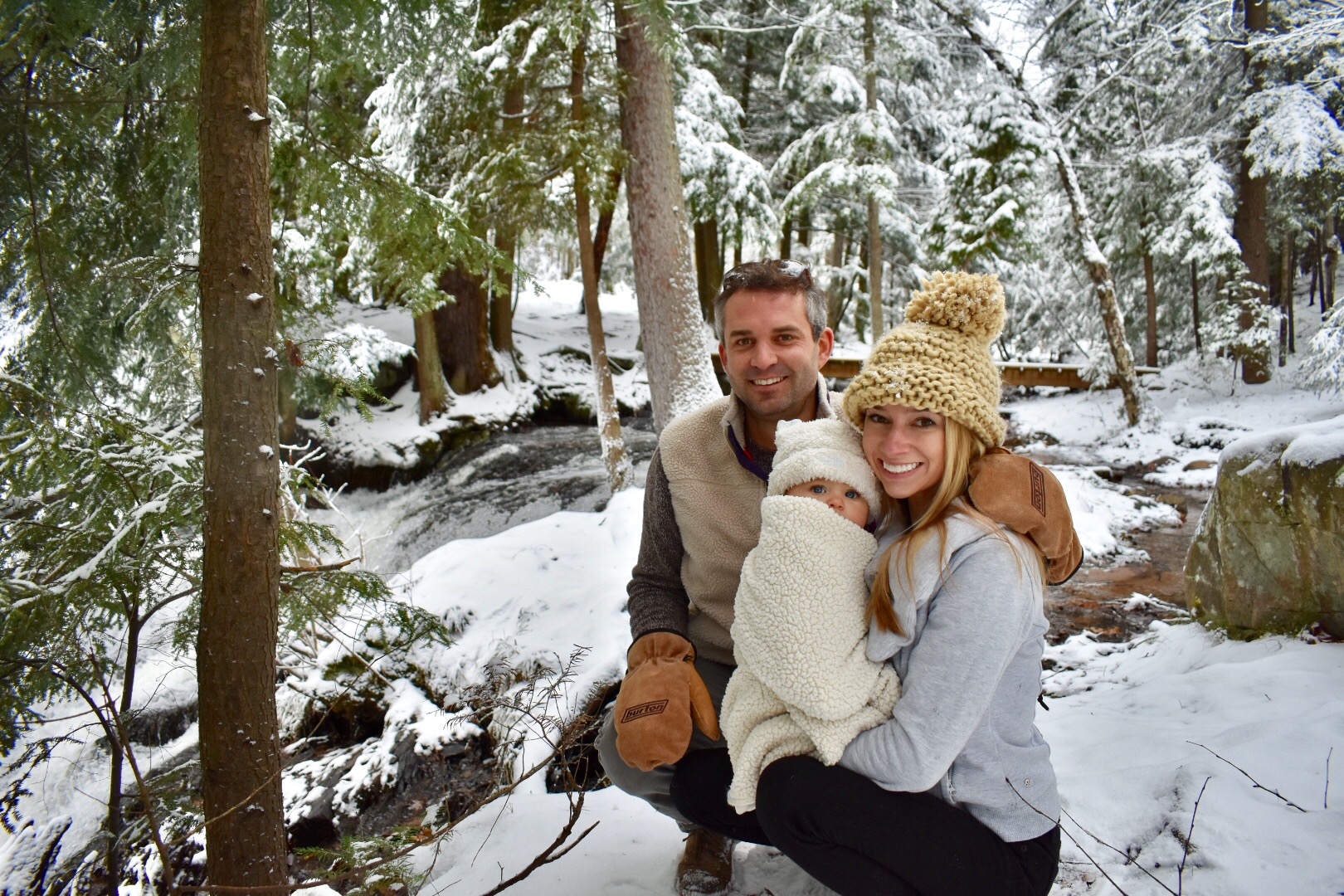 John, Brittany, Nina McNeil
On a rare day off in Marquette, MI - a favorite place to wander!
our continued story... Petoskey roasting co.
After working in the setting of a coffee shop for just over a year and a half, we got the itch to start roasting ourselves. We started out with small batches, and still roast all of our coffee in 5lb batches or less and named that endeavor Petoskey Roasting Co. John has become the master roaster, perfecting the art and continuing education throughout the year to stay on the top of the game.
As we grew out of our small warehouse space in Petoskey and relocated our roaster to the back of our shop in Boyne City, we renamed the roasting arm of our endeavor Lake Charlevoix Coffee Company to reflect the change in roasting location. We are building out time in our schedules going
into the coming year to visit the countries and farms we work with. Three shops keeps us pretty busy, but we also work with small coffee shops and various specialty grocers at the wholesale level, as well as lots of private labeling for coffee shops or other larger companies looking for a unique gift or retail item.
The more we grow the more people we can take with us, and growing the business in this way *feels so good*, it's the rising tide analogy, ya know? We thank everyone from the bottom of our hearts as we continue to work hard creating a product that not only tastes great, but helps fuel the lives of so many in our area - and the world.
Stay in touch!
Subscribe to our inconsistent, non-spam filled, caffeine fueled newsletter! We can't promise it will be weekly or even bi-weekly, but won't it be so nice to stay connected?